In the current digital world, document formats keep changing and so should you to keep tabs with innovations. A smart free scan to PDF software can help you achieve this aim by giving you the ability to convert any document to PDF format.
Most people prefer PDFs instead of the conventional word documents as it presents the contents in a more professional way. You can also condense a huge document into one PDF to make it easy for the readers to read the contents.
Today, we look at five primary things that you should consider when looking for the best free scan to PDF software in the market.
Types of Document Formats it supports
As mentioned earlier, with new technology comes more document formats. You definitely do not want to have a set of software to assist you to convert documents to PDF. Therefore, it is quite important to consider the types of document formats that the free software can support. The best support up to 15 different formats thereby saving users the struggle of scouting the internet for different software each time the need to convert to PDF arises.
Security Features
Security is essential especially if you are going to share the documents with peers. Simple alternation can lead to disputes in the organization as well as legal tussles. Go for a free scan to PDF software that adds certain security features on your document such as digital signature or encryption using a password. Such measures will ensure that the contents of the document are not altered with during transmission. The recipient can also validate the original sender or source of the document by looking at the security features.
Usability
It is important to make sure that the software that you choose is easy to use so that you do not have to seek external assistance from peers or the support team. Reviews posted by people who have already used the software in the past can help you to know if particular software is user-friendly or not. Ideally, you should avoid software that has a negative reputation or its interface is not clearly demarcated. Otherwise, you might end up with software that is complicated to use.
Ability to Send Document via Email
Once the scanned document is converted into PDF, is it possible then to share it with friends and colleagues via email without having to close the software? The best software that we have come across this has this feature. Once the PDF document is ready, you have the option of sending via Outlook to any recipient. This saves time and streamlines processes as you do not have to leave the app.
Is the Software Secure?
Hackers now have the ability to penetrate your computer by using software already installed but have weak or no firewall. Therefore, you should make sure that the free software you intend to install has a firewall that you can count on to cushion you from the current and future viruses. Most of the renowned developers update their software firewall continuously to keep new threats at bay. You may need to contact the company representatives to know the level of security that their software has before you make the purchase.
These are the primary factors that you need to put into consideration when looking for a free scan to PDF software. However, we have done the hard work for you and found great software that meets the above criteria and has a clean reputation in the market, Advanced Scan to PDF Free.
Here are facts about its features that make it the best in the market. In each feature, we will give you insights on how to leverage the feature.
Can Handle Wide Array of Document Formats
Advanced Scan to PDF Free is best known as the leading and most reliable software as it can handle a wide array of documents. All you need to do is indicate the type of document that you are uploading to ensure that it is converted to PDF correctly. For example, if you want to convert many images and compress them into one PDF format, make sure that you indicate whether the photos are .jpg or .png.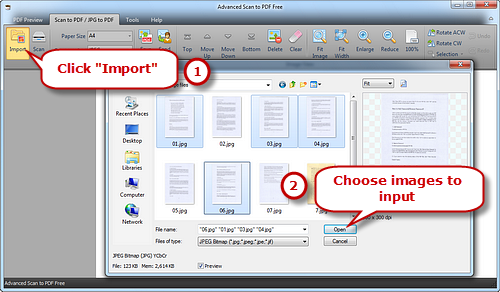 You Can Protect the Document with Password or Digital Signature
One of the factors that we discussed about the best free scan to PDF software is that it allows users to add security features. Advanced Scan to PDF Free does this by allowing users to protect the PDF documents with a password of their choice. The recipient will need the password to see the contents of the document. You can also add another layer of security by including a digital signature. All these options are clearly displayed at the interface.
Ability to Share the Document via Outlook
If you already know the recipient of the converted PDF document and you do not intend to store it on your computer, you can send it via Outlook without leaving the app. Once the document is converted, you will see an option to either download the document to your designated folder or send to a recipient via Outlook.
Ability to Edit Images before Converting
Sometimes, you will need to make certain changes to the images before converting them into PDF. Advanced Scan to PDF Free will help you do that in the preview window. You can rotate them as well as include metadata to make it easy for you to locate them after archiving.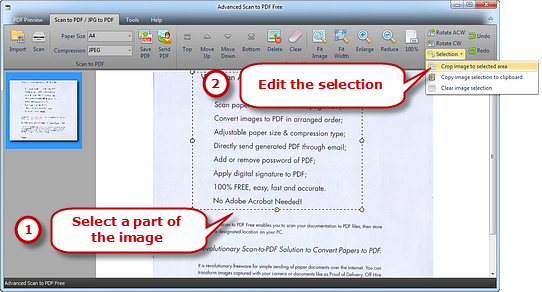 Final Verdict
Before settling for a particular free scan to PDF software, you need to consider all the factors that we highlighted above to avoid getting a raw deal. Advanced Scan to PDF Free is, however, one of the best software that we have tested and proven to be effective and efficient in converting any document including reports into PDF documents. In spite of the fact that most features are sophisticated, it is 100% free and secure and you won't need to pay a penny to enjoy the features. Go ahead and download it from http://www.scantopdfconverter.com.
Please follow and like us: